This post may contain affiliate links for products I recommend. If you click a link and buy something I may receive some compensation. This does not change the price you would pay.
There are hundreds of products in the market that promises to remove the lines on your face. Of all these products, a natural anti aging face cream is the most common and one that makes up the majority.
However, with the multitude of products available over the counter and via the internet, making an educated choice on which one to purchase could be a difficult task.
To help you with your selection, here are some tips to remember when choosing an anti wrinkle face cream.
What Should I Look For In A Natural Anti Aging Face Cream?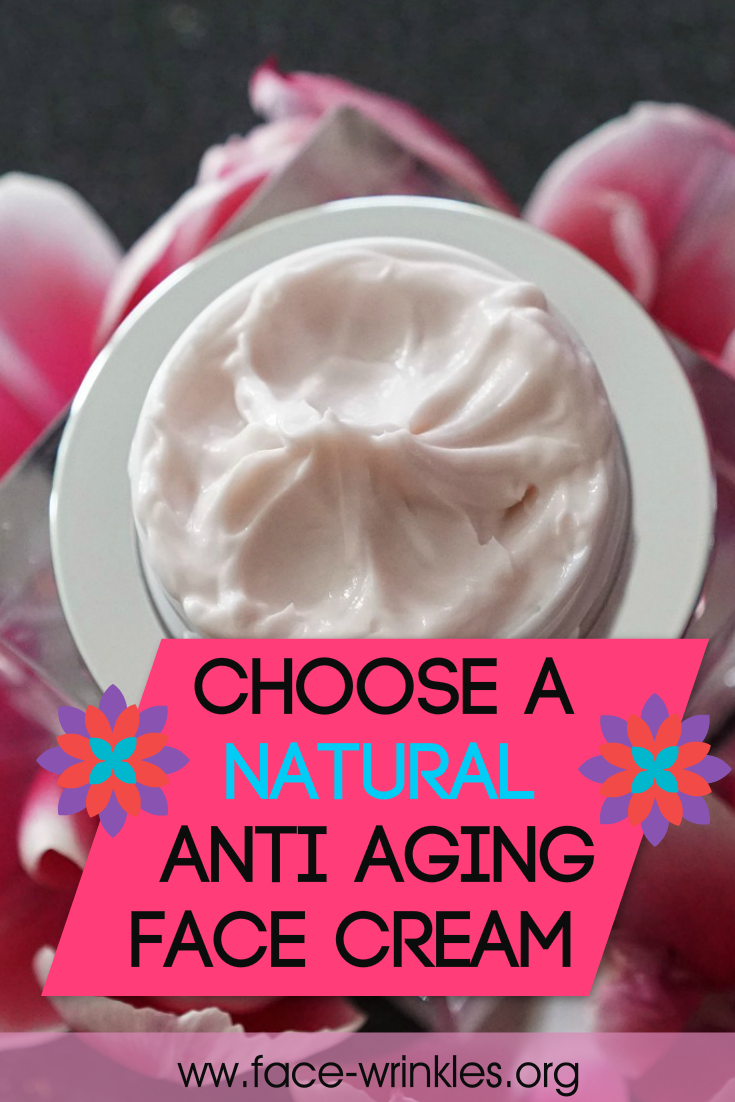 Firstly, you should bear in mind that there is really no magical product, no matter how expensive, that will completely erase your wrinkles.
Sure it can be lessened and minimized but not totally erased. Given this fact, it is not advisable to spend an arm and leg on a single product.
The best thing to do is to learn about the cream's ingredients and compare with similar products that cost more reasonably.
The second thing you should make sure of is that the natural anti wrinkle face cream that you will be purchasing is one that matches your skin type.
Not all anti wrinkle products indicate if they are meant for normal, oily or dry skin. As a guide, just bear in mind that generally, rich moisturizers are for dry skin while serums are for oily and normal types of skin.
Other things to consider are the cream's ingredients. Do not allow yourself to be swayed by the great marketing gimmicks and the very attractive packaging of the products.
Costs may not be a good basis of consideration since some of the expensive creams do not work as well as some of the cheaper ones.
It is more ideal for you to learn about the contents of the cream and find out for yourself if they are indeed good for you or that they are safe to use.
What Are The Best Natural Anti Aging Ingredients That You Should Be Using?
Here are the best natural ingredients that you should be using when it comes to minimizing wrinkles or fine lines. My top 5 picks are:
B Vitamins
If you want healthy skin, hair and nails, try to find products that contains Vitamin B.
This important Vitamin can also repair damaged cells in the body, which means it can help improve the look of your skin.
You can also add foods that contain Vitamin B in your diet as well.
Vitamin C
This Vitamin can help improve the amount of collagen in the skin and help minimize fine lines and wrinkles. It has also been shown to help remove toxins in the skin as well, to give you better looking skin and a healthy glow.
Coenzyme Q10
This antioxidant naturally occurs in your body, but as you get older it produces less amounts of it. Antioxidants are very important as you get older, as it can get rid of free radicals that damage your cells in the body.
You can find many anti wrinkle creams and moisturizers today contain Coenzyme Q10 and is one of the most important ingredients when it comes to better looking skin.
Caffeine
If you have a lot of wrinkles around the eyes or have crow's feet, creams that contain caffeine can help improve circulation.
Caffeine also has antioxidant properties to help fight against damaged cells in your body as well as your skin.
Shea Butter
This natural ingredient can absorb into the skin really well and has anti inflammatory and anti aging properties to help fight against aging.
Shea butter is also high in Vitamin A, E and F. It has also been shown to improve collagen in the skin and help reduce fine lines.
Try to find an organic skin care cream that contains vitamin E, C and A, emollients such as silicone, acetyls, butters and oils, SPF, Retinol, collagen renewing properties and exfoliating Alpha Hydroxy Acid (AHA) and Beta Hydroxy Acid (BHA).
If you are looking for a 100% natural anti aging face cream, Parfait Visage is the product for you.Parfait Visage does not contain any preservatives or additives, it will help moisturize and minimize fine lines and wrinkles to get firmer skin.
This product can also be applied to your legs to help reduce cellulite and contains vitamins, minerals and other vital nutrients to be delivered to your cells.
Here are my other 4 best picks for the best natural and organic anti wrinkle face creams that are perfect for any skin type , even if you have sensitive skin.