This post may contain affiliate links for products I recommend. If you click a link and buy something I may receive some compensation. This does not change the price you would pay.
Sweet almond oil for face and the body has many health benefits and is also very affordable to buy. It is one of the best natural ingredients that you can apply to your skin to prevent dryness and also lock in important vitamins in the skin.
Almond oil is rich in fatty acids and also high in Vitamin E which is great for your skin. It is also a recommended oil to remove makeup and will also moisturize the skin which is important just before you go to bed.
Individuals who suffer from skin disorders such as eczema or psoriasis can get relief by massaging the oil onto their skin. As this is a natural oil, it will not irritate the skin and you can easily add your favorite essential oil if you like to have a natural perfume scent while using the oil.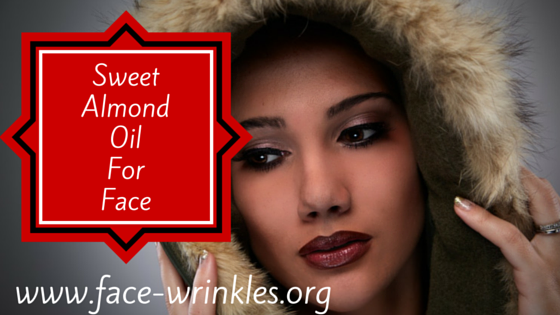 Sweet Almond Oil is also great for the scalp as well and will also help if you have dandruff. By simply massaging a small amount on the scalp or adding a small amount to your shampoo, you can see immediate results.
This oil is also great for your hair and will help remove frizz, dryness and also give you more shine in your hair. Also, leaving the oil in your hair for a few hours before having a shower can give better results.
When purchasing your sweet almond oil , make sure that it contains 100% almond oil and does not have other ingredients added to it as you may get a skin reaction especially if you have allergies or sensitive skin.
Benefits Of Sweet Almond Oil For Face And Body.

Applying a small amount to your nails can help strengthen and prevent breakage. To do this, simply add a small amount of sweet almond oil to a cotton wool and gently wipe your nails, this will give you stronger and tougher nails.
Premature aging of the skin is commonly caused by not having the right vitamins absorbed into the skin.
Almond oil is packed with vitamins such as vitamin A, D and E, and if applied daily you will get very soft skin and reduce dryness and wrinkles on the skin.
If you have stretch marks and other treatments have not worked for you, why not try this natural oil.
It will also help prevent more stretch marks from appearing on the skin, you will need to apply it regularly to see the benefits.
As you only need a small amount when applying it to your skin or hair it is actually very affordable and easy to find. As this is a natural oil, it can go bad within a few months so it is important to refrigerate the oil or keep it away from direct sunlight.
5 Benefits Of Sweet Almond Oil On Your Hair
There are many benefits from using sweet almond oil for your hair and the number one reason why I like using it is because it is 100% natural and does not contain any chemicals.
Here are my top 5 benefits of using sweet almond oil on your hair"
 Smooth And Silky Hair : Using the almond oil regularly can get rid of frizz and make your hair very smooth and have a shine look to it as well.
 Great For Dry Hair : I tend to get very dry tips on my hair, and I have found this oil to be great for getting rid of dry hair.
 Stop Split Ends : If you hair is prone to splitting , try using sweet almond oil on your tips.
 Great Conditioner For Your Hair : If you use a conditioner after you shampoo your hair, this oil is a great alternative as it more natural and will not cause any irritation on the scalp as well.
Can Improve Hair Growth : Mixing sweet almond oil with an essential oil such as castor oil can improve hair growth and add protein to the hair.
By applying sweet almond oil to your face and hair, you will gain better looking skin and will not experience any strong side effects by using this natural oil.
Haven't Found What You Are Looking For? Do A Search Below